Raspberry and chocolate has always been a favorite combination of mine. I made some of these tasty treats the other day. It's been a while since I shared a recipe. Since it's the Holiday season I've been in baking mode and felt like this was the perfect recipe to share. It's really easy to make and is a great addition to your cookie tray or dessert table.
I love them because it's dark chocolate (but you can use sweeter chocolate if you'd like) and raspberry which is one of my favorite fruits.
My mom used to make all kinds of candy and had hundreds of candy molds when I was growing up. She would pull out her electric skillet, fill it half way with water, put some empty jelly jars in it and fill them with chocolate wafers. She'd sit there for hours making different fillings and all kinds of chocolate candies for all the holidays.
This recipe is a simple (keto) variation of those candies that she used to make. If you are going to spend the day making candy with milk and dark chocolates then by all means do the electric skillet and/or the double boiler method. Since I am just making a tray or two, I'll be using the microwave. The filling is just mashed raspberries, so it really is very easy to make.
These would also be great with cacao nibs or little pieces of nuts added to the raspberry filling!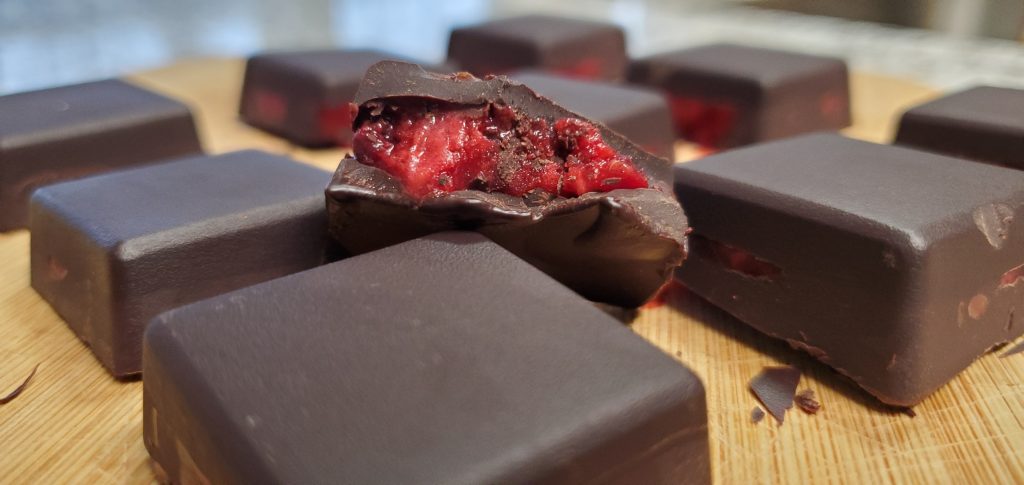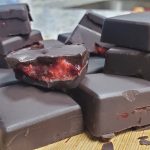 Raspberry Filled Chocolate Bites
Ingredients
8

oz

chocolate – 70% or higher

lilys chocolate chips or baking bar lind bars or baking chocolate with a little sweetener mixed in

1

bag

frozen raspberries

no added sugar
Instructions
Break up chocolate bar into microwave safe bowl or cup.

Melt chocolate. Start at 30 seconds. Stir. Continue to microwave in short 30 second intervals until melted.

Spoon chocolate into silicone molds using the back of the spoon to coat the side of the mold.

Mash 1/4 cup of raspberries

Spoon a small amount of raspberries into mold.

Cover with remaining melted chocolate.

Keep refrigerated or frozen.
Recipe Notes
Macros and nutritional information depend solely on what kind of chocolate you use and how large the molds are. 
Nutrition Facts
Raspberry Filled Chocolate Bites
Amount Per Serving (1 candy)
Calories 0
* Percent Daily Values are based on a 2000 calorie diet.
To stay up to date on my upcoming programs and events, join my free facebook group.
To read more about my group coaching classes, follow this link.
Please follow and like me: