Sometimes when you have dinner, you just want something that's french fry-like. Or tater tot-like. The other night we made these keto cheesy tots. They were very tasty. Granted, they were not exactly like tater tots, but to go with our minute steaks on a nice keto roll, and it was pretty close.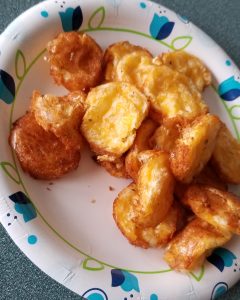 Ingredients
1/2 Cup Shredded Cheddar Cheese
2 Egg Whites
1/4 tsp. Oregano
1/4 tsp. Garlic Powder
Wisk egg whites til frothy. Add spices and cheese. Mix well. Spoon just a little bit into a greased tart pan. You want the mixture to just cover the bottom of each tart section. Bake at 400 degrees for 10 minutes. Pop out of pan as soon as they come out of the oven so they don't stick. Makes 24 tots.
Macros Per 8 Tots;
Calories    48
Protein     5g
Carbs       1g
Fiber        0g
Fat           3g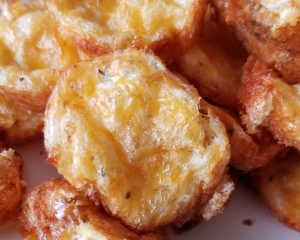 Please follow and like me: