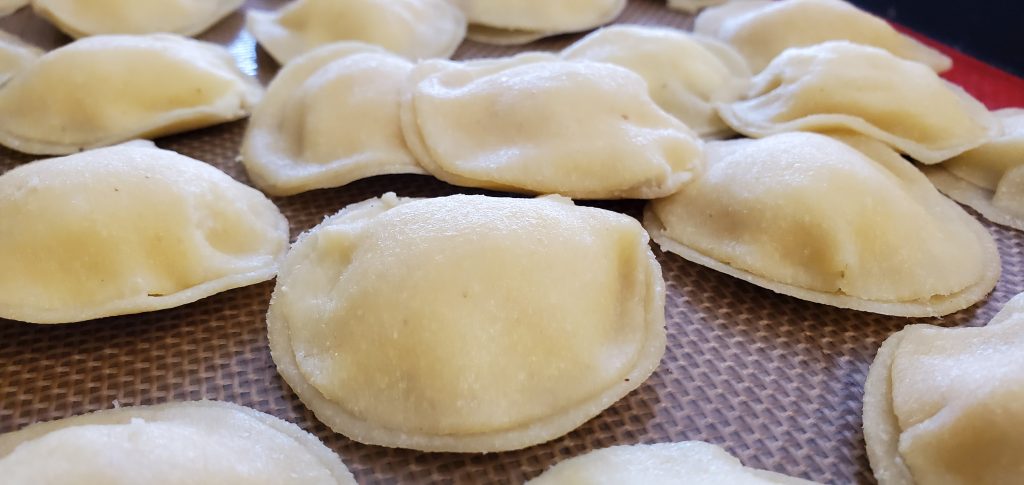 "I miss ravioli. I miss pasta." These are things I hear often as a keto coach. You can have pasta dishes while following the ketogenic diet. They won't be pasta like you're used to, but they hold the sauce well and allow you to have some of the foods you miss, even if you don't like zoodles. I personally love zoodles! My husband, not so much.
I don't make these all the time, maybe a few times a year, but when I do, I make a lot! This recipe itself makes quite a few. Store those leftovers in a freezer bag or airtight container and toss them in the freezer for another day. They can go from freezer to air fryer to plate in under ten minutes, so once they are made, they make for a quick dinner on the nights you don't want to cook. They also make for a great appetizer if you are having a party. Serve a little sauce on the side for dipping and serve a plate of friend ravioli.
If you have your favorite ravioli filling, go ahead and use that. Fill them with beef, sausage or a mix of meat and cheese. I've even talked about filling these with mashed cauliflower to make pierogies. You can make them larger to fill with sauce and cheese for a hot pocket type of meal. Once you master the dough, the possibilities are endless! What a great way to spend the day with the kids. How many of us grew up making pierogies or raviolis with the family? Now you can pass that down even if you don't eat traditional pasta!
I'd love to hear what you made and how the family liked it!
If you'd like to sign up for a free consult to discuss coaching options, please contact me! I'd love to hear from you!
To join my FREE group on facebook, click here.
Keto Ravioli
Ingredients
Filling
1

cup

Ricotta Cheese

Whole Milk

4

oz

Mozzarella Cheese

Grated

2/3

cup

Parmesan Cheese

Grated

1/4

tsp

kosher salt

1/4

tsp

Black Pepper

1/4

tsp

Oregano or Italian Seasoning

2

lg

Egg Yolks
Instructions
Dough
Add all ingredients to food processor.

Mix until dough forms a ball

Place dough onto plastic wrap and knead it through the plastic for a minute.

Let dough rest on counter for 10-15 minutes then place in fridge for 30-45 minutes (it can stay in fridge for up to 4 days)
Filling
Mix all ingredients in a bowl and mix well with a fork.
Assembling the ravioli
Break a piece of dough off the ball.

Place it between two silicone mats or parchment papers.

Roll until dough is translucent.

Using a circle cookie cutter, cut out the bottoms of the ravioli.

Place a ball of cheese mix on half the circles.

Use the other half of cut circles to cover the cheese.

Press edges down all the way around each ravioli.

Continue until all dough has been used.
Cooking and storing
To cook; fry each ravioli in butter, for a minute on each side in a pan, set to low heat.

Raviolis can also be cooked in an air fryer. (Coat with butter or oil first for crispy ravioli)

Raviolis can be stored a few days in fridge and may also be frozen.
Please follow and like me: