To prep and plan is one of the biggest components of eating a ketogenic lifestyle and actually succeeding at it. But, it's also the one area that I get the most resistance as a coach. Who has time to do that? I don't like to plan ahead. What if I don't know what I want to eat until I'm ready to cook. These are all excuses I've heard.
Shopping before keto
Back before I started keto, I would get up on Sunday morning, maybe look through the flyer from the grocery store quickly, then head out and go shopping. I would wander the isles, adding things to my cart. When I got home, everything went in the fridge or pantry, Id eat lunch and go about my day. Each day I would stand in front of the freezer or fridge and stare into it wondering what to make for dinner. Soccer games and meetings and life in general seemed to always keep me too busy to cook. More often than not, I would just grab a box and make some kind of processed food. Mac and cheese, hamburger helper, and the ever popular chicken nuggets and fries. We were living! On Saturday I would go through the fridge and find the fresh fruits and veggies left in the fridge that I never found time to chop. Every week I was throwing away food. Tossed food = wasted money.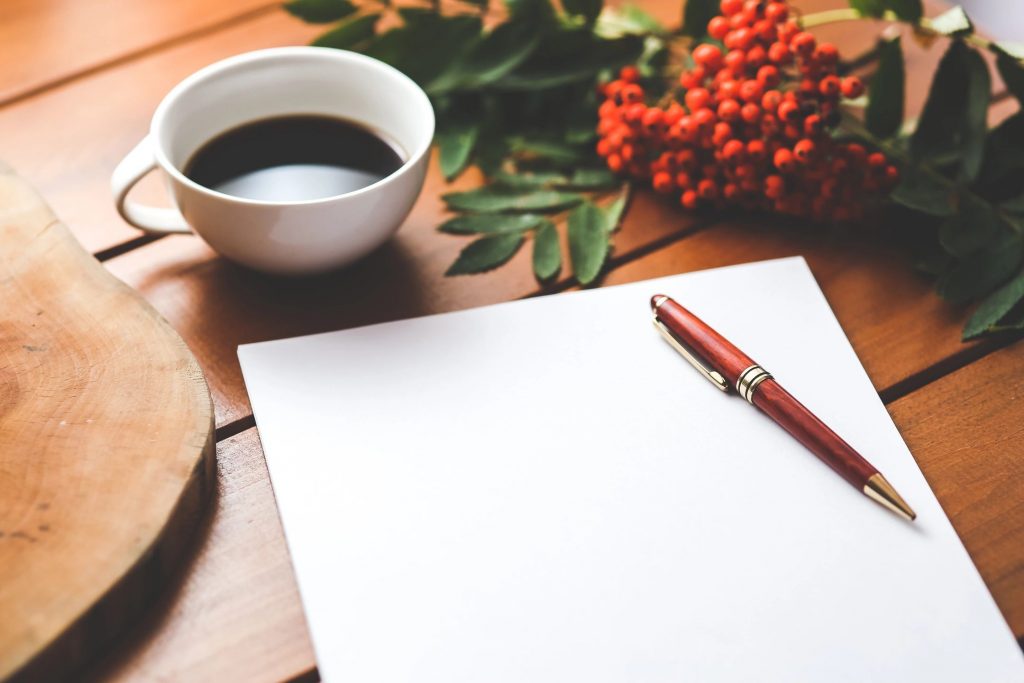 While I drink my morning coffee I plan it out
But, what I found is that it's really NOT that hard to prep and plan. Before I go to the store, I sit down and plan out my menu for the week. I'm not talking 3 course meal for every day of the week for breakfast, lunch and dinner. I personally do intermittent fasting, as does my husband. So, I don't worry about breakfast. But, there are always eggs in the fridge if I wake up hungry one day. For lunch my husband takes the night before's leftovers to work with him. He's also got beef sticks stashed at work. I keep my pantry and fridge stocked with canned tuna, pepperoni, cheese, nuts and olives. Like I said, there's always eggs, so I do often scramble up some eggs for lunch.
So, really all I need to worry about is what are my main dishes for dinner this week? Well, I saw that chicken is on sale this week, so I'll buy enough for two meals. We'll do chicken Alfredo and chicken Parmesan. And I think I saw roasts on sale, so lets do a roast one night. I have a meeting one night, so I'll do a soup that day in the crock pot, so I need some ground beef for that. We'll do sausage links another night, and Friday night is always pizza night. So, that gives me 6 dinners. Sunday can be leftover night or fend for yourself or breakfast for dinner night.
Stick to your list!
I make my shopping list as I run out of items. I ONLY buy what's on my list. No added goodies. So, knowing what I'm having this week to eat, helps me build a good shopping list that actually keeps me in line. I don't buy items we never eat and end up tossing out. I make a big salad on Sunday, and usually another one on Wednesday.
Based on the menu above, I need to purchase salad items. I check to make sure I have enough dressing for the week. Do I have cheese and cream for the Alfredo? Diced tomatoes for the Parm and the pizza? What veggies do I need for the soup? And what am I throwing in the crock pot with the roast? Toppings for the pizza is always whatever meat is leftover from the previous dinners. If there are none available then we just have cheese pizza. It did not take me a lot of time to prep and plan out my week.
Commonly used foods are always in stock making it easy to prep and plan
The basic staples (tuna, diced tomatoes, tomato paste, butter, heavy cream, cheeses, nuts, beef sticks) are always stocked up and when I open the last bag/can or as they go on sale I buy more. So, now I have my list.
If you are cooking for one or even two, make enough for four. It takes no extra time. Portion it out into containers and freeze it. Nights that you don't feel like cooking you can just grab something and heat it up. These frozen dinners are MUCH better than the ones I previously was buying. Fathead pizza dough freezes very well. Make some small personal sized crusts and freeze them for fast dinners or lunches.
For me, prepping and planning has been a huge time saver as well as a money saver. I rarely throw food out now. It either gets packaged up and frozen for a later date or gets thrown in soup or on pizza at the end of the week.
I now focus on QUALITY foods and can afford it because I'm actually buying LESS. Following a ketogenic lifestyle is SO much easier when you prep and plan.
My Affiliate Links
You do not have to purchase any "keto foods" but I often get asked for keto approved foods that are good grab and go snacks and condiments that are keto approved. Pre-packaged is certainly easier. And for some it's easier to prep and plan if at least part of their day was already made. I get it. You pick and choose your battles. Mayo can be tricky to make. So, you're willing to make dinners, but don't want to waste eggs and oil fighting with making mayo. Or maybe you just want a snack that can be thrown in your purse or briefcase and forgotten about until you need it. Or, maybe you are just looking for spices that are clean, with no added fillers. Due to that, I've found some items that are keto approved.
PaleoValley – 100% grass fed beef sticks and turkey sticks use code SANDIKKETO10
Keto Farms ( bulletproof coffee and snack mix) use code SANDIKORSHNAK
Select Savory Seasonings – seasonings free from added fillers
Primal Kitchen – keto mayo and dressings (not every item is keto so be sure to read ingredients) use code SANDIK10
Need help going keto?
I offer group coaching, private one on one coaching as well as a few other services. You can find the list here.
It's never to late to start living healthier!